AntiGravity® Founder and Innovator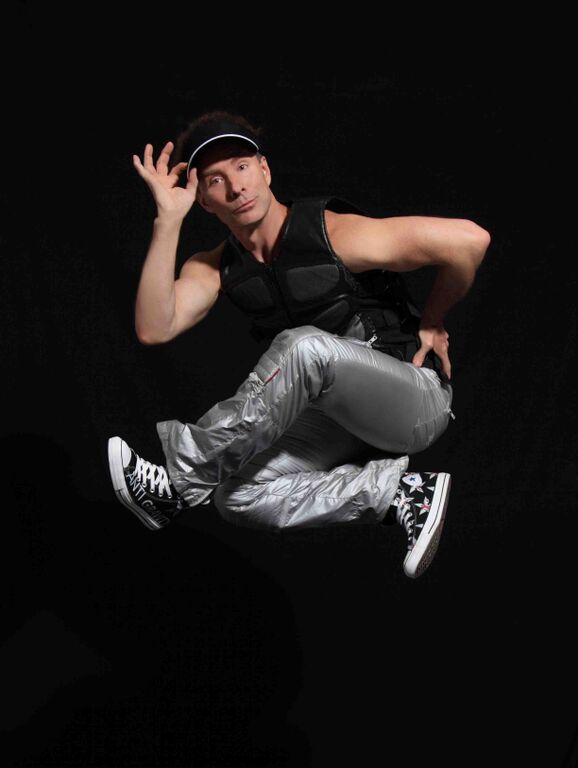 In the early 1990's Christopher Harrison, an entrepreneurial minded athlete, champion gymnast, snow-blader, street skater and college cheerleader turned Broadway dancer/choreographer had a vision of merging the athletic and the aesthetic. Mr. Harrison, always the trend-setter, understood the explosive nature of sports on stage and set out to combine the two. He also discovered that what was once unique to the circus could be reconceived utilizing athletes to create a wholly new movement vocabulary. He gathered fellow champions eager to let go of the "rules and regulations" of their sport and formed a performance company whose objective was to "challenge the limits of physicality". Together, in NYC, they created new technology for jumping, flipping and flying. He aptly named the innovative team AntiGravity. Here is how they have influenced the movement revolution that ensued.
Over twenty years, AntiGravity's outstanding work has flourished on the biggest stages, with the most popular artists and tastemakers of our day. Aside from their own original full-length theatrical shows (5 unique productions), AntiGravity has helped to develop numerous other brands with their unique appeal. Their diverse clients include: Barack Obama, Stephen Spielberg, P. Diddy, Kanye West, 50 Cent, George Lucas, Steven Forbes, Nelly, Britney Spears, Mariah Carey, Gwen Stefani & No Doubt, Heidi Klum, Usher, Rihanna, Marc Jacobs, Paul Newman, Richard Branson, Kurt Browning, David Letterman, Daddy Yankee, Giorgio Armani, Tommy Hilfiger, George Soros, Marc Jacobs, Karl Lagerfeld, Bill Gates, Richard Branson, NFL, NBA, NBC, ABC, CBS, FOX, PBS, MTV and many more. They have participated in 3 Olympic Games, 6 Broadway shows, 15 seasons with the Metropolitan Opera and numerous television appearances including: the Grammy Awards, Video Music Awards, Academy Awards and President Barack Obama's Inauguration. They also perform in rock tours and at all-star games, in commercial advertisements and in hundreds of high-end international events from fashion launches to movie premiers to raves. No longer merely a performance troupe, AntiGravity has spread its wings as an entertainment brand with divisions in: theater, events, television, film and fitness. The AntiGravity executive team is a fine-tuned production machine that knows how to execute with precision. Having worked together for many years, in every kind of circumstance all over the world, when they produce, nothing is left up in the air. Since its inception in 1991, the AntiGravity Entertainment has become the premier American Aerial Acrobatic performance company and the Presidents Choice. Below is a selected list of Harrison's accomplishments with AntiGravity as his platform.
Celebrity Clients
President Barack Obama, Madonna, Alexander Wang, Richard Branson, George Lucas, Bill Gates, Steven Forbes, George Soros, Marc Jacobs, Karl Lagerfeld, Kanye West, Nelly, 50Cent, Britney Spears, P.Diddy, Mariah Carey, Gwen Stefani & No Doubt, Paul Newman, Daddy Yankee, Rosie O'Donnell, Pitbull, Steven Spielberg, Pink, Michael Jackson, Kanye West, Nelly, Fergie, Heidi Klum, Usher, Marc Jacobs, Katie Couric, Kurt Browning, David Letterman, ABC, NBC, CBS, Univision, MTV
Television Productions
Original Full Length Live Shows
Creative Team Collaborations
Live Sporting Events
Operas
Corporate Client